October 17, 2019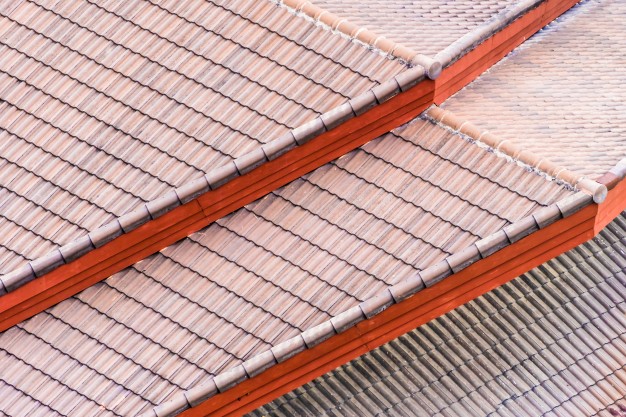 There is a long and interesting history associated with roofs over the centuries, and it can be fascinating to see how much – or how little – the materials used to make them have changed over the years.
Early roofing materials:
Centuries ago, roofs were constructed from whatever materials people could get their hands on, most of which would have been found naturally in their environment. For example, in tropical areas, materials such as palm fronds were a practical and lightweight choice that is still popular among rudimentary home makers today. In the plains, the Indians constructed their homes from animal hides and in ancient Africa, mud and straw was often the material of choice for both the walls and roofs of their homes. Wood was used too, but never on its own, and usually combined with materials such as mud or woven fibres that could be placed over the gaps.
Roofs made of tiles or thatch:
History books tell us that the Chinese were using clay tiles way back in 3,000 BC, and they have a long and advanced history of architectural techniques to their name. In Europe, on the other hand, tiles became commonly used only when the ancient Greeks and Roman civilisations came about. In northern Europe, wooden tiles or slate that could be locally sourced were popular, with wood being frequently used to make roofs for Nordic churches. Even nowadays, slate is still widely used in northern Europe and other nearby countries such as France and Spain.
In Britain, thatch was commonly used for roofs from around 735 AD, but was also popular in countries like Hawaii, Bali and Fiji. In Kenya, thatch was made from sugarcane leaf, and for those who used it, it proved far cheaper than other materials like tiles and was more fire resistant than wooden shingles.
In southern Europe, baked clay was the most popular roofing material, giving Spain and other Mediterranean countries a classic terracotta appeal to their homes. However, as time went on, concrete tiles were more commonly used since they were cheaper, and they were simply painted red to resemble terracotta.
Asphalt shingles in the states:
In America in the 1920's, asphalt shingles were being developed with a variety of coatings, materials and adhesives to aid their durability, waterproofing and resistance to changes in temperatures. As these were simple to manufacture and install and relatively inexpensive, they quickly became the most commonly used roofing material for many American homes.
Roofs made of metal:
There is a very good reason why metal roofing has been so widely used throughout history, and it's mainly due to its high levels of durability and the fact that it can easily be bent to fit any shape. That said, metal roofs used to be expensive and therefor only available to the wealthiest in society or were reserved for use on significant structures such as temples and museums.
Copper was widely used for roofs in ancient Rome, with the ancient Egyptians preferring aluminium and alum compounds to make their roofs stronger. In the 1700's, zinc became a popular choice and remains a popular alternative to copper even today.
The types of roofing materials in use today are heavily influenced by local climates, availability and cost, along with cultural preferences, too. While some of the ancient materials remain popular today, metal roofing is the one that has truly stood the test of time, proving itself to be the most versatile, attractive and durable choice for today's modern roofs.